Flags
In direct printing, a number of particles cover all the fibres of the material. Then the material goes through a press similar to a mangle, where it achieves its final colours and is cured. Eventually, the particles which have not bonded with the flag material are separated in the washing machine. This is the story of the pigment which gives the face to the design of each flag.
We make national flags, advertising flags, large-format flags, banners or mobile flags (the so-called "flies' wings").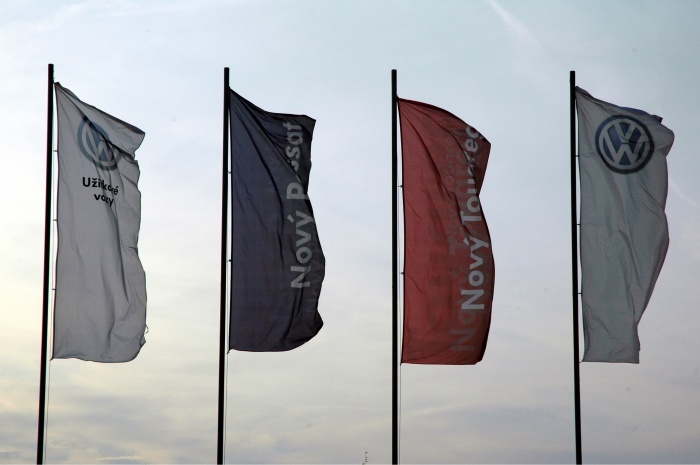 Technologies used
Digital sublimation printing is the ideal solution for today's orders of flags, which often involve full colour and quick delivery. There is approximately 90% penetration to the reverse side of the material. This is the technology we are currently focusing on.
Materials used
The conventional flag material known as polyflag is the most sought-after material for the manufacture of flags. The material we use has the quality of 115 g/m2.
Heavy-duty flag cloth has become known as polystretch and the manufacturing process makes it suitable for windy locations. Our material weighs approximately 120 g/m2 and we supply it for the same price as conventional flag cloth.
Flag shapes
We most typically make conventional rectangular flags for fixed outdoor poles.
Mobile flags are usually in teardrop or fin shapes. A number of sizes and shapes are possible, depending on the structure of the frame whose size determines the shape.
Common cloth treatment:
We use plain cut edges on certain mobile interior flags. Well-cut flag cloth does not fray and this simple solution can therefore also be used in applications where the weight of the standard edge treatment would cause trouble.
The edges of the cloth are most typically taken in and overedged.
The bow tunnel is usually found in the upper horizontal edge of the flag and it usually accommodates the yard to ensure that the flag is tensioned.
We provide the reinforced edge with a set-in patch with plastic hooks or metal eyelets with an internal diameter of 10 mm.
We would advise against
Reinforcing the loose corners of the flag with solid material. The increased weight of these parts also increases the load in these spots in strong gusts of wind. We see this as counterproductive.