Screen Printing
This technique refers to the application of dyes onto printed material using a stencil, and this basic principle has remained nearly the same for centuries. However, there was great and dynamic development in the twentieth century in the area of screens, dyes and, most noticeably, printers.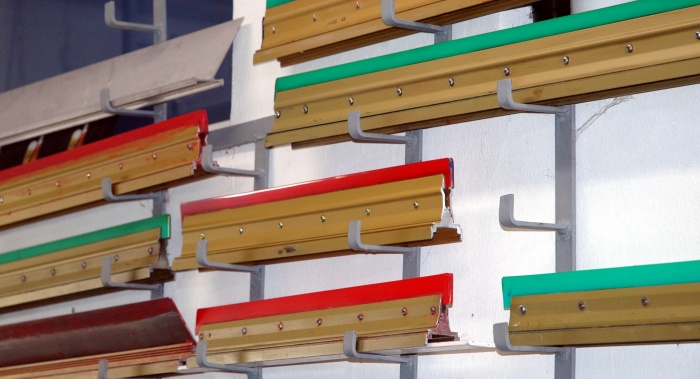 The screen is today most typically in the form of an aluminium frame with a special fabric, the so-called "mesh". The quality of this permeable mesh determines the use of the screen for printing on certain materials; there are therefore many types of screens for different materials. The screen printing screen is not permanent; the customer only pays for the exposure of his image on the screen using a light-sensitive emulsion. The screen is reused and is of a much higher value than what is charged for the manufacture of the image being printed. Depending on the type of screen, the life of the stencil is several thousand prints and, if it has been agreed to store the stencil for additional printing, it is several months.
The inks are divided according to the method of hardening or according to their chemical properties. They include, for example, water-based, alcohol-based, solvent-based, sublimation, two-part and UV inks. Their use is always associated with the specific printing application, the type of material being printed on, and the requirements of the customer.
Printing machines have been developed with a view to the best printing quality and productivity. What determines the printing technique is, again, the materials.
Modern turntable machines were developed for absorbent textile materials. On these machines, the material is placed one piece at a time on the printing table and all the inks required for the design are applied.
For non-absorbent materials, it is necessary to dry the previous ink before the next is applied. For that reason, single-position machines are used, and the material is removed from the printing table and the inks are dried in a drying tunnel after each printing. It is possible to create continuous lines of such devices.
Cylindrical surfaces need to be printed on with a rotary screen printer, of which there are different types, ranging from simple manual tables to sophisticated lines for large volumes.

Typical Products
Hats
Workwear
Products for restaurants
Stickers
Scratchcards
Illuminated signs
Bags
T-shirts