T-shirts and Printing on Textiles
The cotton T-shirt is, without question, the most common item printed on for promotional purposes. In our company, T-shirts usually take a ride on the merry-go-round (a slang expression for the turntable). Instead of seats they need tables that they are pulled over; they are straightened and carried to the individual inks, drying positions and, finally, the dark, hot tunnel where the new look is cured and fixed forever.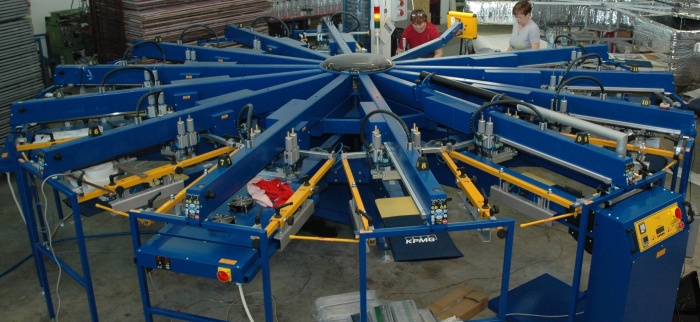 Technologies used for textile printing applications
We use direct screen printing for the batch printing of dozens to tens of thousands of pieces. We have several turntables available; the highest level of our equipment is represented by a twelve-colour semi-automatic machine capable of printing designs of a size up to 600x400 mm. The resolution of the printing rasters is 65 lpi.
Thermal transfer screen printing is needed for fine printing on structured and otherwise problematic fabrics. Because of the transfer over paper, it offers a higher level of detail than direct screen printing but the life is a little shorter and the price a little higher. The resolution of the printing rasters is 65 lpi.
Flocking results in a highly resistant print and is therefore often applied to workwear or carpets.
Cut thermal plaster graphics applications are suitable for small-volume and single-piece orders. It is often used for placing numbers on textiles.
Cut digital printed thermal transfer graphics were initially only used in single-piece production. However, they have been gaining in popularity in larger volumes if the customer requests high (digital) resolution of full-colour designs. The print can be protected with a liquid UV coating to increase its life.
We would advise against:
Washing printed fabrics at temperatures above 40 °C.